Hi there everyone! I'm Alex, and I'm here with an update about what's going on here at Tentai. I haven't been very active on social media recently, but for a good reason (doing lots of stuff right now). I've been working on a lot of quality of life improvements to our physical system (hence me taking extra time with Ice Queen's translation). I'll talk about everything in this post, so here goes.
Ice Queen Status
Currently we're still working on some things of Ice Queen. We're coordinating ourselves with the new printer, and once they give us a time estimate for the prints to be done, we'll give a specific release date. Please, do not trust the Amazon release date, as it is not final and may change depending on the answer of the printer (should come soon). With our new printer physical books should normally arrive a week or two at most after the digital release, just to give an estimate of their arrival.
Side Character 1 Prints
We've reworked the design of the cover and softcover for Side Character 1's physicals, as we're on track to reprint the physical books due to their recent spike in popularity. I'll post the initial designs here, but these might be subjected to some small changes in the final version!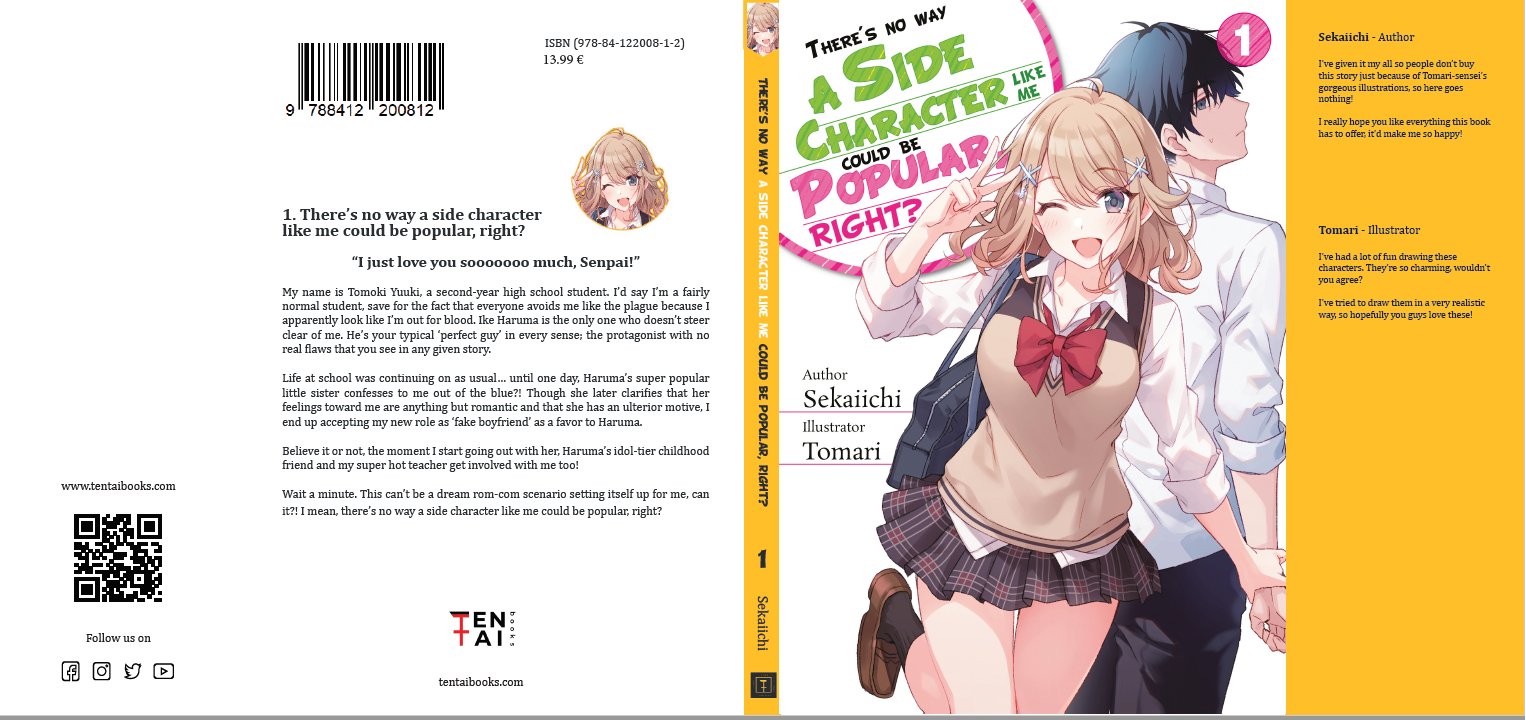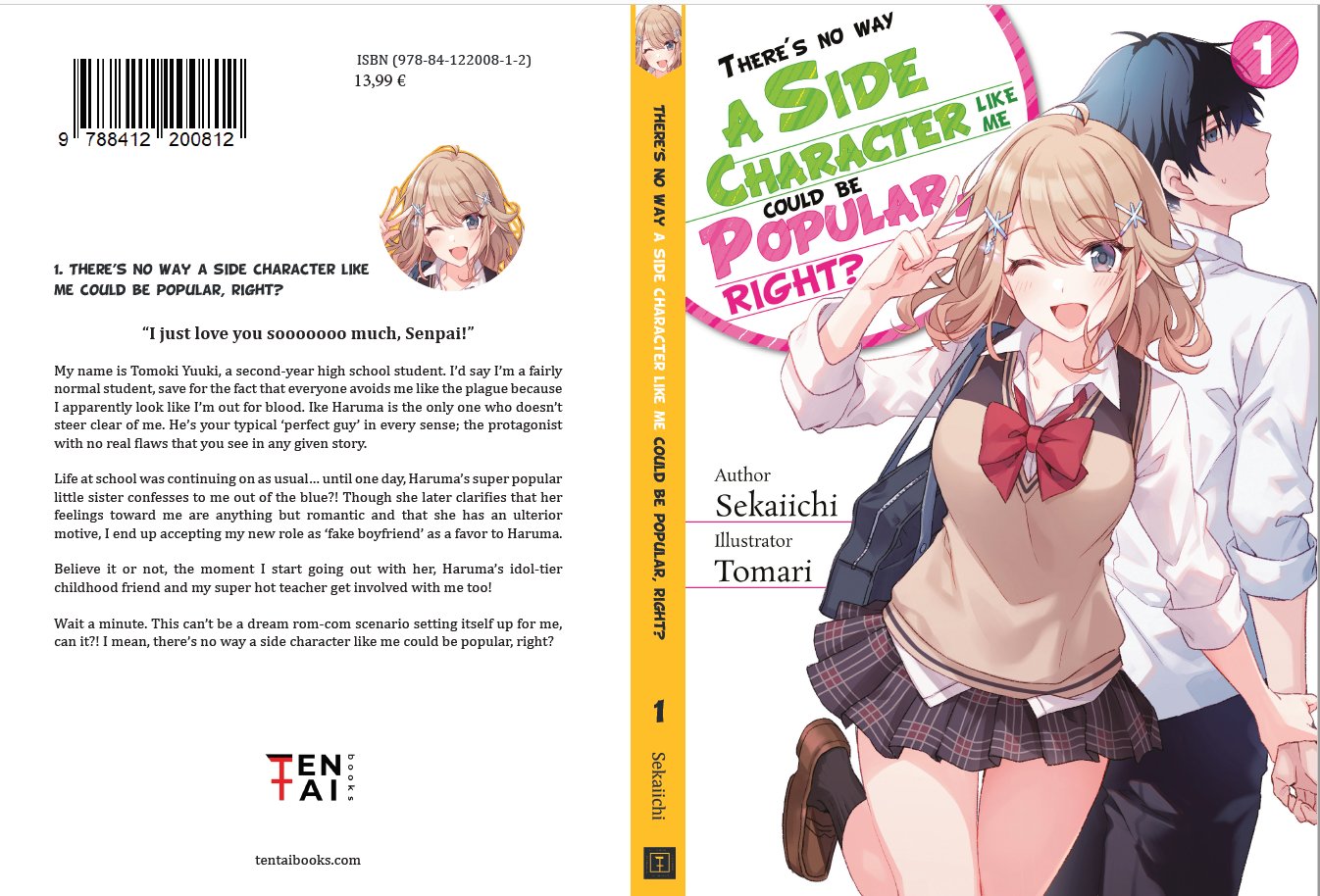 We've also made some critical interior designs for all our upcoming reprints, ones that we will replicate for all future Light Novels we work on. The colored images, instead of being in singular pages, will now be placed in trifold brochure-style, just like the Japanese versions as I will show now:
These changes we've made for both volume 1 and 2 of Side Character at the moment, and we'll continue to implement this way of showing the colored images in the future. We've also fixed the margins and other interior designs of volume 1.
For those who bought the 1st edition of Side Character with the different spine, we're working on a system that allows the buyer to acquire a softcover of the reworked volume 1 version if they so wish free of charge with any physical purchases in our store as a way to thank those who supported our very early stages of physicals.
Shipping Options Expanded
We've been scouting some reviews about our products and service, and generally those that we've seen about the quality of our books (and bookmarks!) have been very positive and encouraging! However, what we've noticed more than anything else is something that people have been telling us about, that being:
"Their products are of great quality, but their shipping is simply too slow / not the best"
That's why we have decided to expand the shipping options in our store. Once we restock the physicals in reprints everyone will be able to choose what method of shipping they'll get. I'll list the main options available:
Economy Shipping: This is the one we've been using so far for all of our physical orders. Although it is very cheap and affordable for everyone, these take quite some time to arrive (between 15 to 40 days), they have no tracking number, and even though all arrive, we understand the concerns of those who buy from our store and have to wait for their package to arrive without any information about its location. Currently these cost around 4 USD for Worldwide shipping and 3 USD for European shipping.
[New Option] Premium Shipping Standard: New option available for buyers. It'll cost 15€ (or 18 USD) flat for US, Canada, Australia, and EU orders (might vary for other countries a little bit), but it will always cost this regardless of the amount of books ordered (unless it reaches a certain threshold, then this becomes free shipping). This option has tracking number, and takes around 3 to 4 days to arrive anywhere in the world. The company taking care of these shippings is Zeleris, a Spanish shipping enterprise. We've personally used their services multiple times, and they've proven to be a trustworthy and reliable shipping partner.
[New Option] Other Premium Choices: We'll add other premium shipping choices in case anyone wants their books to be sent by any other agency of their choice, but these will be fully priced (as a spoiler, the cost for a single-book shipping would start at 30 euros, ouch).
As a way to close the shipping options, although we do understand that the new premium alternatives are punishing for those who buy single volumes, we've done our best to make those options worth for those who order more than 1 book through the system, and we hope that we can keep improving the pricing in the future!
As for the presence of our books in Amazon US, BookDepo, and other US, Canadian, and Australian retailers and bookstores
We're in talks with Ingram to have our books distributed with them throughout the American and Australian continent, as well as having them listed in many other sites and physical stores. It takes a little bit of time to get integrated into their system though, so please bear with us on this one! As soon as we have some news about this we'll keep updating everyone about it.
And I think that's it! As an extra, I'd like to add that soon enough we'll announce Outcast's Restaurant 2's release date, as well as another one for Side Character 3.
PS: Expect the remaining announcements of our remaining licenses too as well, as things are moving forward!
Alex.